Foot measurement – this is how you buy shoes at ROSE
Find the right shoes – without trying them on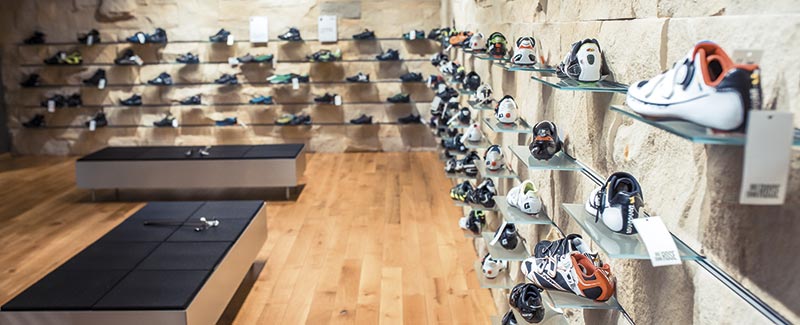 Do you suffer from foot pain when cycling? It doesn't have to be like that! With our ShoeDNA system, we help you to find the right shoes from our huge product range. Do you want to know how that works? It's as easy as this: Simply enter your shoe size and we'll let you know which shoe models are large or small and whether you have to order a certain model one size large/smaller. This special service can be offered thanks to foot scanners in our stores in Bocholt and Munich! A sales consultant will scan your feet and recommend you shoes that suit you best based on the shape of your feet.
This is how our ShoeDNA expert service works:
Step 1: SCAN

At first, your feet have to be scanned. For this, you simply have to put on a pair of test socks and step onto our test plate. A sensor then moves around your feet to create a 360° scan. Besides, the test plate you are standing on measures any pressure points on the sole.



Step 2: ANALYSE

Based on the single pictures taken from your feet, the computer generates a full 3D image you can have a look at during an extensive analysis. The programme then calculates all data of your left and your right foot that could be relevant for the choice of the perfect shoes, such as shoe size, foot width, instep height etc. On the basis of this data, our expert consultants can tell you whether single zones like the ball or the instep are smaller or wider than usual and whether there are pressure points or overload on the sole of the foot that have to be taken into consideration when buying a new pair of shoes. If need be, our expert consultants will also help you choose suitable insoles to counteract any pressure points. We'll also be happy to send you the data of the analysis via email.



Schritt 3: SHOE RECOMMENDATIONS

After the analysis, our programme uses the data to determine which shoe model of our range will fit your feet best. All shoes of our range were scanned inside before to have the data available for the ShoeDNA analysis. To quickly find your favourites, you also have the possibility to select the desired type of shoes (e.g. MTB, road, trekking, streetwear), the price range, the desired season and pedal compatibility. Our programme then compares your data with the scans of our range of shoes and gives you shoe and size recommendations.



Schritt 4: FITTING

In a last step, you also have the possibility to virtually try the shoes on, this means that the computer programme shows you how the fit of your favourite shoes matches your foot shape. Afterwards, you can try on all of your favourites and test which model suits you best, if you like.

Schritt 5: COMFORTABLY BUY SHOES ONLINE

AIf required, your data (full name, customer number and email address, if need be) can be stored so that you can also fully benefit from the advantages of the ShoeDNA system online. In this way, you can compare online products with your stored foot measurements to find the perfect shoes online.

No worries – if you decide to entrust us with your data, we'll only use them for the purpose of foot measurement, e.g. to send you a scan by email or to allow you to use your ShoeDNA foot profile online, too.


imprimir
'carga de la tarjeta